Robinson Enterprises, Inc.
Jason Robinson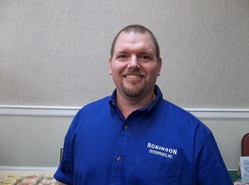 Robinson Enterprises, Inc. has formed an alliance with JV Provisions LLC to cross sell each other's product lines. Robinson Enterprises is a family owned and
operated business located in Morrilton, Arkansas that started like most with his father and mother paving the way. Jason Robinson has been running the business
for about twelve years and still holds true to the belief that the hard work efforts of his parents who are still very much involved in the business. They have grown over
the years thanks to hard work and a very loyal customer base. We have added a few new faces to Robinson Enterprises but we will always strive to continue that
family atmosphere. We will always do our best to earn your business and trust.
Address:

P.O. Box 706
1001 Tennessee Avenue
Morrillton, AR 72110-0706
866-354-3451

To Place an Order:
Jason Robinson--Robinson Enterprises
866-354-3451 Phone
501-354-1388 Fax
rei.network@robinson-enterprises.com

Robinson Enterprise Products

Antacids
Apparel
Baby Care
Bar Soap
Batteries
Beans & Rice
Bottled Water
Candy
Caps, Ponchos & Ear Plugs
Ceral & Breakfast
Cheese & Dips
Cheese Loaf & Margarine
Cocoa & Marshmallows
Coffee & Cappuccino
Condiments & Sauces
Conditiner
Cookies & Snacks
Cotton Swabs
Cough Drops
Crackers
Dental Needs
Deodorant
Deodorizers
Detergents & Fabric Softeners
Dish Liquid
Disposable Cups, Plates & Utensils
Electronics
Eye Glasses
Eye Solutions
Feminine Hygiene
First Ade
Gatorade
Hair Accessories
Individual Squeeze Packets
Instant Pasta & Rice
Instant Potatoes
Instant Pudding
Jelly (Plastic Containers)










Juices
Light Bulbs
Liquid Soap & Body Wash
Little Debbie & Cloverhill
Locks
Meat Snacks
Milk & Creamer
Mints & Gum
Miscellaneous Hair Products
Mixes
Nail Grooming
Pain & Sinus Medications
Paper Towel & Toilet Tissue
Peanut Butter
Pickles, Relish & Peppers
Plastic & Paper Sacks
Popcorn
Pouch & Microwaveable Items
Powder Drink Mixes
Ramen Noodles
Refrigerated & Frozed Items with JV Provisions LLC
Sandwich Bags
Shampoo
Shampoo Plus Conditioner
Shave Needs
Skin Cleanser
Skin Solutions
Sno Cone Syrup--Gallon
Soft Drinks
Soups
Spices
Sponges
Summer Sausage
Stationery
Sunscreen
Sweetener
Syrups & Honey
Tea
Tortillas
Vegetables & Fruits
Vitamins